9 September 2019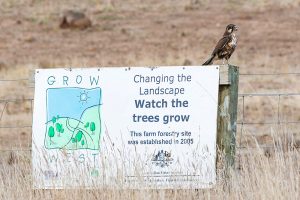 A photographic exhibition on display at the Lerderderg Library in September is showcasing the biodiversity of the region and the positive impact of community environmental action.
Grow West: A Greener, Brighter Future celebrates 15 years of the Grow West program, which has worked with 48 landholders and 2,800 volunteers to undertake one of Victoria's largest revegetation projects.
Grow West's vision is to rejuvenate 10,000 hectares of land by creating nature links between the Brisbane Ranges National Park, Lerderderg Gorge State Park and Werribee Gorge State Park.
Over the last 15 years, Grow West has planted 1.3 million trees across 2,500 hectares, providing a space for native plants and animals to live alongside thriving local communities.
The exhibition features a wonderful array of local native animals and plants taken by local photographers David Whelan, Bernie McRitchie and Roger McRaild.
It also includes a number of fascinating before and after photos, which show how the landscape has improved between the 1970s and today.
The exhibition coincides with Biodiversity Month, which is held in September each year and aims to promote the importance of protecting, conserving and improving biodiversity both within Australia and across the world.
Grow West: A Greener, Brighter Future
1-29 September 2019
Lerderderg Library, 215 Main St, Bacchus Marsh
Open: Mon, Thu: 8.30am-8pm; Tues, Wed, Fri: 8.30am- 5pm; Sat: 9am-2pm