16 February 2021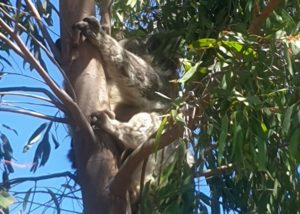 Wildlife spotting is always exciting, but it's particularly thrilling when the species hasn't been seen in the area for a long time. This happened recently on David Muir's property in Myrniong, where a koala visited for the first time in 10 years.
The property is part of the Myrniong and Korkuperrimul biolinks which provides a strategic link to the Lerderderg State Park. The koala was spotted at the site of the 2012 Grow West Community Planting Day site, where 200 volunteers planted 6,500 indigenous trees and shrubs and the famous 1 millionth Grow West tree was planted by the then Minister for Environment and Climate Change, the Hon. Ryan Smith MP.
Koalas are seen in Lerderderg State Park but don't often venture onto farm land because of the lack of vegetation connecting large tracks of remnant vegetation in the public reserve to private land.
It's only been through the establishment of the biolinks that these animals have started venturing further afield, feeling more comfortable to traverse the agricultural landscape with a good food source at hand.