6 April 2017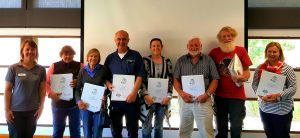 Grow West has a big winter to look forward to! PPWCMA Environmental Projects Coordinator Helena Lindorff has secured agreements with 47 local landholders to plant over 390,000 native trees across 600 hectares in 2017.
In preparation, landholders have been attending information sessions to help them understand what's involved in the revegetation on their properties and the ingredients to successful rabbit control so the trees will flourish.
These plantings are part of the massive 'Greening the West – 1 Million Trees' project which has a big team of partners behind it including LeadWest, City West Water, councils and community groups.
The project is funded through the Australian Government's National Landcare Programme.