1 July 2020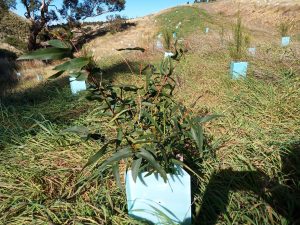 While the 2020 Grow West Community Planting Day has sadly been cancelled, we're please to report that the trees planted back in July 2019 as part of the 2019 planting day are doing very well.
The landholders, Rick and Nadia, and their neighbours, Bill and Airlie are amazed by the growth rates of the plants that were planted by our wonderful team of volunteers last year.
We have had some exceptional rain events throughout the 12 months that have helped the seedlings survive their first summer and continue to grow into 2020. Some are popping out of the guards!
Thank you to all those that had helped in 2019 and we look forward to your support at the 2021 planting day.