17 July 2018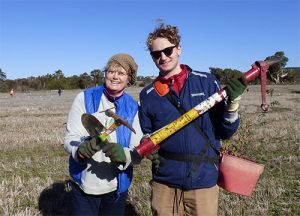 On Sunday 15th July 2018, 190 volunteers gathered at Sheoak Hill in Glenmore for the 2018 Grow West Community Planting Day.
The annual planting day is one of the Grow West's biggest events and is an important opportunity to rejuvenate and restore local landscapes. Over the past 15 years, Grow West has worked with thousands of volunteers and hundreds of landholders, who have helped plant over a million trees in the Upper Werribee Catchment.
This year, the planting day was held at Sheoak Hill, a 552ha former cropping and grazing property nestled between Brisbane Ranges National Park and Werribee Gorge State Park, in the Rowsley Valley.
The goal of the Sheoak Hill project is to re-establish a link between the two parks by managing existing vegetation, controlling weeds and rabbits and revegetating both the flats as wells as the shallow and highly erodible hillsides.
On behalf of Grow West, Port Phillip and Westernport CMA, Victorian National Parks Association and Friends of Werribee Gorge and Long Forest Mallee we would like to thank you for helping us make the 2018 planting day a success, with 190 volunteers attending and 5,433 seedlings planted.Your efforts will help to reform this important corridor for threatened wildlife such as Swift Parrots and Brush-tailed Phascogales.
We would also like to thank Melbourne Water, 15 Trees, G.J Gardner Homes, Bendigo Bank Bacchus Marsh, Bacchus Marsh Lions Club, Victorian Mobile Landcare Group and Dera Sacha Sauda volunteers for their contribution, both in-kind through their efforts and financially.
The event was funded through the Greening the West – 1 Million Trees, which is supported by the Australian Government's 20 Million Trees Program (part of the National Landcare Program).