1 September 2021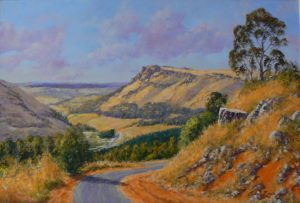 Grow West's annual 'Greener, Brighter, Future' exhibition has gone online at Moor Art Space for the second year, and this time is showcasing the past winners of the Grow West Landscape Art Prize.
Since 2005, Grow West has sponsored the annual Rotary Club of Bacchus Marsh Art Sale and Exhibition through the Grow West Landscape Art Prize. Artists of all levels enter artworks in any medium that expresses their understanding and appreciation of the work done to protect the precious, yet fragile, environment in the Grow West area.
Through this sponsorship, the project has acquired 16 pieces of artwork, depicting the Grow West landscape and these are now available to view online all throughout September. The featured artworks include pieces by Dennis Cotter, Geoff Paynter, Alison Durham, Ri Van Veen, Bernie McRitchie and more.
Grow West is proud to partner with Moorabool Shire Council to share these amazing pieces of artwork online with the community.
To view the online exhibition visit Moor Art @ Lerderderg Library | Moorabool Shire Council