The local community including landowners, volunteers, community groups, councils and business are all central to the success of Grow West and its programs.
Without question, the opportunity for landholders to work together, to share resources and experiences, to dovetail their treatment plans for animal and weed control and to get together to share their successes is important to the success of Grow West's goals.
Grow West runs a number of field days and events throughout the year to facilitate these conversation. These events include involvement the Annual Grow West Community Planting Day in July, held in partnership with Victorian National Parks Association.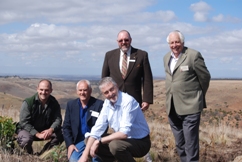 There are a range of social and community benefits that Grow West creates including:
Recognition, awareness and understanding within the community of local natural resources issues
Sense of pride in working to resolve local land management issues
Increased cooperation between sectors of the community
Increased attractiveness of landscape
Increased social cohesion
For more information about Grow West and its events and programs call the Environmental Projects Coordinator on 03 9971 6502.