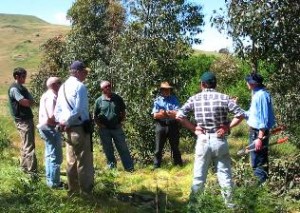 Grow West's goal is to repair and restore the landscape in the project area through programs that improve the productivity and viability of the local landscape.
Additionally, Grow West is working with a range of partners who are invested in the health and viability of the land in this area and have pledged their support into the future.
The Grow West Team works with both landholders and corporate supporters to undertake programs that protect existing native vegetation, help restore and replant new vegetation and treat weeds and pest animals, to ensure the health of the land and waterways within the area.
Grow West brings significant economic benefit to the project area, including:
Increased Land Productivity
Access to funding to enable land improvement activities
Access to resourcing and expertise to enable land improvement activities (eg. Grow West facilitators)
Access to advice and information
Reclamation of eroded, saline and weed infested areas
Attraction of funding/business to the area
Employment in the environmental industry
Attraction of tourists to the area
Increased markets for locally produced and sold products
For more information contact the the Environmental Projects Coordinator on 03 9971 6502.