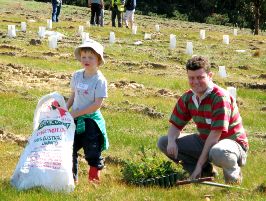 VicSuper has a reputation as a responsible investment company that walks the talk when it comes to sustainability.  VicSuper started its partnership with Grow West early in the project's life and has been once of its most vocal advocates.
Bob Welsh, CEO, VicSuper explains "Grow West is a fantastic initiative for the Victorian community and environment, and our staff have really benefited from being involved in the tree planting activities."
VicSuper's experience in typical of those involved in Grow West. Sustainably focused companies like VicSuper will invite staff out for a day at Grow West and the Team will find the right spot for them to contribute to the environment.