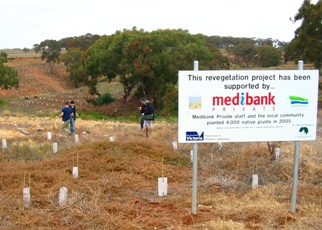 jumped in on the groundfloor with Grow West in 2004, becoming involved in the Werribee Vale Restoration Project and planting over 2,500 seedlings, before backing up their investment and staff time again in 2005 planting 4,000 seedlings and in 2006 planting at the Ingles Property in Little River.
In each the organisation contributed funds and staff time to revegetate the areas within the Grow West area that needed intervention. In in each case, returned an astounding result.
Like the planting on the Ingles Property, this revegetation improves pest plant and animal control, beautifies the local area, provides habitat to local fauna, compliments neighbouring and roadside planting and enhances protection of native grasses present in the area.